In this section, you'll find family oral health tips including dental emergency information, current oral care product news and information, and age-specific oral care guidelines.
Go to Your Child's Developing Smile
Here is where you'll find fun, easily-accessible do together on-line games, along with such activities as a virtual art gallery and video chapters from the award-winning Dr. Rabbit and the Legend of Tooth Kingdom!
Kid's Videos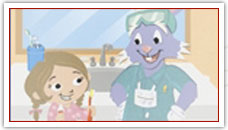 Teach your child about proper toothbrushing! Check out the video above and share it with your child today. It's a great way to foster proper brushing technique at home!