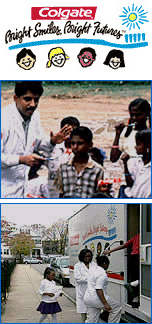 Colgate's Bright Smiles, Bright Futures Education and Mobile Van Reaches Millions of Children Every Year
Global Program
For over 40 years, Colgate-Palmolive has been committed to delivering oral health education to children around the world. Today that commitment continues through Colgate's flagship Bright Smiles, Bright Futures program, which is a multi-tiered initiative to promote the importance of oral health through education and prevention.
The primary focus of the program is to reach children in schools through videos, storybooks, sing-along-songs, computer CD-ROM and interactive activities - both for educators to use in the classroom and for parents to use at home. Since 1991, this program has reached more than 500 million children in 80 countries.
By establishing partnerships between governments, dental professionals, education professionals, schools and communities, the Bright Smiles, Bright Futures oral health initiative enables millions of children each year to enjoy the benefits of vital oral health education and preventive treatment.