Oral Health Information for Parents and Kids
Oral Health Information for Parents
4 Steps to A Bright Smile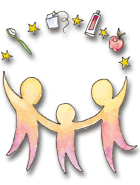 1. Brush at least twice a day with a fluoride toothpaste, especially after eating breakfast and before bedtime
Guide on how to brush
2. Floss every day
Guide on how to floss
3. Limit the number of times you eat snacks each day.
SNACKING AND TOOTH DECAY
If fluoride is our great protection against decay, then frequent snacking can be our teeth's big enemy. Every day, you and your family face snacking challenges. Here's what you need to know:
It's How Often You Snack that Matters
The truth is that what your family eats isn't as important as when and how often they snack! It all has to do with the "plaque reaction" , and this is how it works:
The Plaque Reaction
Everyone has plaque bacteria in their mouths. But when these plaque bacteria meet up with the sugars and starches that are found in snacks such as cookies, candies, dried fruits, soft drinks, or even pretzels or potato chips, the plaque reacts to create acid, and a "plaque attack" occurs.
The fact is, most snacks that you eat contain either sugars or starches that give plaque this opportunity to make acid. And each "plaque attack" can last for up to 20 minutes after you have finished your snack. During this period, the plaque acid is attacking tooth enamel, making it weak. That's when cavities can start!
Fighting Back against Plaque
The good news is, you can take a stand against plaque! By brushing twice daily with a fluoride toothpaste and by reducing the number of times you snack each day, you and your family can help prevent tooth decay.
When it comes to snacking, it's best to choose something nutritious and to snack in moderation. It's also better to eat the whole snack at one time! Here's why: Eating five pieces of a snack at one time exposes your teeth to possible tooth decay - for approximately 20 minutes. Nibbling on those same five pieces at five different times exposes your teeth to possible tooth decay for approximately 100 minutes. What a difference!
4. Visit your dentist regularly.
The dentist is your family's partner on the Bright Smiles pathway. Be sure to schedule regular dental appointments for the whole family. A child's first visit should take place before his or her third birthday.
Dental checkups early in a child's life allow children to have a positive dental health experience.
TIP: Take your young toddler with you to your own appointment first. That way, the dental office becomes a familiar place.