Oral Health Information for Parents and Kids
Online Activities for You and Your Kids
Here is where you will find fun, easily-accessible "do together" printable projects, on-line games along and art gallery.

Fun Games


Printable Projects

As a busy parent/caregiver, some days you may just want to "print and run." Check out our selection of oral health activities to print out and share off-line with your child.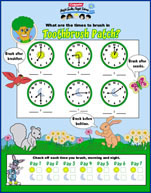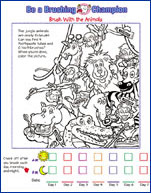 This simple dot-to-dot includes a weekly brushing log.
Open Project
Be the first player to reach the Bright Smile and win! Play this board game with your child - it's a great conversation-starter to talk about taking care of teeth.
Open Project
This activity is great for teaching about how a day is structured. It also helps children remember when they should brush their teeth.
Open Project
Children draw the contents of Dr. Rabbit's bag with this simple sequencing activity.
Open Project
Print out this poster in color - or print the black and white version and color it in!
Open Project
Challenge young children to find the toothbrushes and toothpaste tubes in the illustration. It makes a great coloring sheet, too.
Open Project

Art Gallery

View colorful "My Bright Smile"! artwork by children from around the world ... and learn about the artists and the countries where they live.